Dubai adventure is limitless. We will keep listing out the adventures to do in Dubai, yet the list won't end. 
One of the most modern cities in UAE, Dubai is among the world's foremost popular tourist attractions. Further, Dubai is linked with adventure since it offers many adventure activities unavailable elsewhere. Dubai is your next tourist destination if you want a rush of excitement. 
Now talking about the location, the vast Arabian desert that encompasses Dubai, the Persian Gulf, and the surrounding Hajar Mountains all offer sufficient opportunities for Dubai's people and tourists to indulge in their adventurous spirit. Further, the popularity of most of Dubai's adventure activities has increased significantly.
Moreover, during your stay in this buzzing metropolis, you can enjoy numerous outdoor activities in Dubai. 
If you're planning to spend a luxury vacation in Dubai, you can make the most of your trip by taking a tour with Roaming Routes. Our Dubai tour packages include everything from romantic sunsets to time in the desert. With the Dubai tour packages from Roaming Routes, you will get the most out of your vacation and indulge yourself in the Dubai adventure.
Let's look at some of the thrilling, extraordinary, and extreme adventure activities you can enjoy in Dubai. 
11 Thrilling Dubai Adventure Activities To Undertake
Skydiving has consistently been at the top of several wish lists, and Dubai fulfills this ambition by combining the convenience of experienced skydiving equipment with a magnificent coastal desert backdrop. 
Moreover, you'll fall from a plane at about 4,000 meters and parachute onto the breathtaking Dubai landscape. You can choose between a solo dive if you're an experienced skydiver and a tandem dive if it's your first time. Further, you can get a bird's eye perspective of Dubai when you undertake outdoor skydiving. 
Additionally, Dubai offers indoor facilities to undertake skydiving.
1. Desert Safari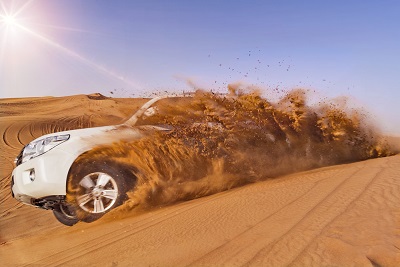 Your Dubai visit is incomplete unless you undertake this Dubai adventure activity – Desert Safari. A very renowned activity amongst city tourists, a desert safari in Dubai transports you to a tent in the gorgeous desert surrounding the city. 
Here, you may go to numerous adventure sports in Dubai. Further, you can enjoy camel rides, dune bashing, sand surfing, or simply enjoy a fantastic buffet meal beneath the stars. The variety of activities offered on such safaris makes them an exceptionally popular choice for people seeking an authentic taste of desert life with a splash of luxury.
2. Quad Biking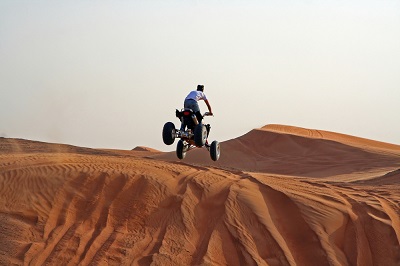 Quad bikes are among the most convenient modes of transportation for traversing the desert. Everybody can learn how to drive a quad bike and take on the big desert using simple riding skills. A light body paired with broad tires and a strong engine enables effortless riding on sandy surfaces, making dune hill climbs manageable. 
Quad riding in the dunes is an exhilarating and daring sport that is immensely popular with locals and city tourists. Further, it is one of the most popular desert adventures in Dubai.
3. Sandboarding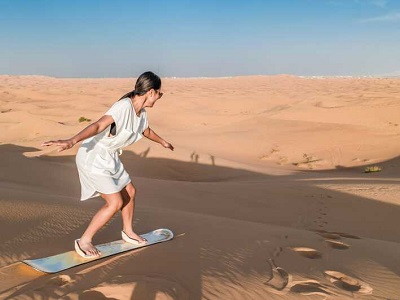 Attach your boots to the smooth surface like a snowboard and glide across the dunes to experience one of the most thrilling desert experiences. Moreover, sandboarding enables you to glide through the dunes. 
4. Water Sports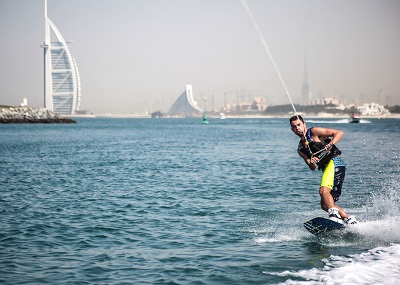 Beat the heat of Dubai by trying a new range of activities such as water sports! If you're seeking something new to do with your family or friends, take a trip to the water and experience activities like wakeboarding, kayaking, catamaran tours, deep fishing, jetpacking, water skiing, and other sessions. 
These sports are available both in groups and individually. Participants can select their preferred times and be provided with the appropriate equipment and safety gear. Take in the breathtaking blue waters when you go on an outdoor excursion! This is a must on your Dubai adventure. 
5. Dune Bashing
As with sandboarding, dune bashing is a must-do adventure activity in Dubai. However, the age requirement needed is as low as three years for this enjoyable sport. That's why dune bashing is a great family adventure activity in Dubai. Take a seat in the SUV and travel at a fast rate of speed, crashing over the dunes. The popular type, Big Red, extensively utilized for this activity in Dubai, is one of the world's most advanced SUVs.
6. Ziplining
Dubai is home to the longest zipline globally and the longest urban zip line globally, and if you're seeking a rush of adrenaline, this place is just the right place. At the Xline at Dubai Marina, you can fly like a bird over the breathtaking Dubai Marina from 170metres up and achieve speeds that can reach 60 km/h during the flight. The Jebel Jais Flight, which is the longest zipline globally, is 1,860 meters above the ground and has speeds of up to 150 km/hour. Views from Jebel Jais, the top of the UAE's mountain, are well worth the belly-spinning terror.
7. Shark Diving
Dubai is well-known for its opulent and futuristic retail complexes, but The Dubai Mall is capturing the imaginations of adventure enthusiasts. The mall is home to a massive tank aquarium that hosts diving events. 
Moreover, if you are at least ten years old, you may swim with sharks and other marine animals. This tank has around 33,000 fish populations. Additionally, you may learn to scuba dive here via a brief diving course. So, you can try this Dubai adventure. 
8. Dubai Autodrome
Many people aspire to drive a supercar. Moreover, you can experience these adventure sports in Dubai. At Dubai Autodrome, you may drive your own automobile around the designated race circuit. At the Autodrome, you'll get to ride the Audi TT, Lotus Evora, Audi R8, McLaren MP4-12C, and a track-only Formula DXB. 
Moreover, a visit to the Dubai Autodrome includes an expert-led tutorial on automobile handling before you're allowed to drive for yourself. Additionally, Dubai Autodrome features a specialized kart section with an indoor and outdoor track that provides an exceptional racing experience.
9. Hot Air Ballooning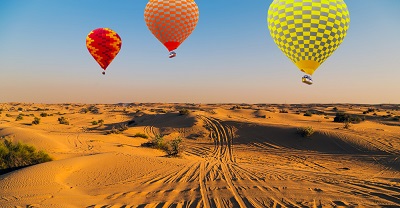 Hot Air Ballooning in Dubai has been experiencing a steady increase in popularity over the last several years. Now a popular Dubai adventure for visitors, hot air balloon excursions are that anybody can engage in. 
In Dubai, participants may participate in hot air balloon trips often held in the desert. The relatively level terrain, uneven surfaces, and gentle breezes provide ideal circumstances for hot air ballooning. The huge desert expanse away from the urban and creates a striking and magnificent environment. Soaring 4,000 feet above the desert floor provides an incredible observation height to overlook the dunes. 
10. Water Jetpack
Among the next outdoor activities in Dubai is the water jetpack, the most distinctive water adventure activity. If you're looking for an alternative to jet skiing and parasailing, this one should surely be on your list. Also, the hydro sport seems alluring in films and video games, and you will find it impossible to resist. The saddle uses the power of water to lift your whole body weight.
11. Bungee Jumping
This is an intense Dubai adventure sport that takes a great deal of bravery and passion. Also, Dubai Gravity Zone is among the best locations in Dubai to enjoy this adventurous sport. Further, the age requirement and maximum weight criteria for a 50-meter-high jump are 14 years and 120 kilos, respectively.
Conclusion
While Dubai has many things to do, the city is a popular destination for adventurous types. The country's geography and climate make it ideal for exciting sports. Moreover, you'll never get bored in Dubai! The Roaming Routes Dubai tour package includes:
An all-inclusive hotel.

A full day of activities.

Dubai adventure activities to make your holiday memorable. \
Also, Visit More for Dubai Desert Safari. thedubaidesertsafari.net